There is no way on this earth that you are going to get me to go to an actual yoga studio.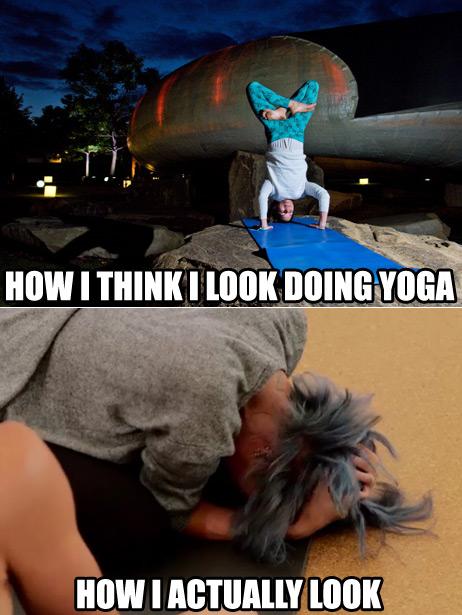 That being said, I know yoga can only help me become a more flexible runner. Introducing – the Yoga Studio app for iOS. I've had a lot of people ask me what I do for yoga, so I'm going to show you a bit about the app. My cousin recommended the app to me initially and I figured it was worth the $3.99 to try it out. It has thousands of reviews and a 5-star rating so that's a win-win in my book.
There are several ways you can use the app. There are pre-built studio classes that you can download or you can also build your own. I like that they give you the option of choosing a routine based on what it will help you with. I use flexibility the most, but the combos are good, too.
You also have the option of creating your own class by adding together whatever poses you'd like to perform. I have yet to use this feature because I haven't a clue on how to put them together effectively, but I think it's a great option to have available.
I had Tara snap some pics of me doing the 30 min Beginner Flexibility course to show you some of the poses that are incorporated. I'm really happy to see how well my Downward Dog has progressed so that I can almost touch my heels to the ground now. You will also notice my "supervisor" Delilah in the pics on occasion. She gets concerned when I'm on the ground and will spend much of the session coming over to check on me or trying to lay on top of me and get cozy.
---
16 responses to "
Yoga Studio App Review

"